F2 Sprint Race review: Monaco 2018
---
26 May 2018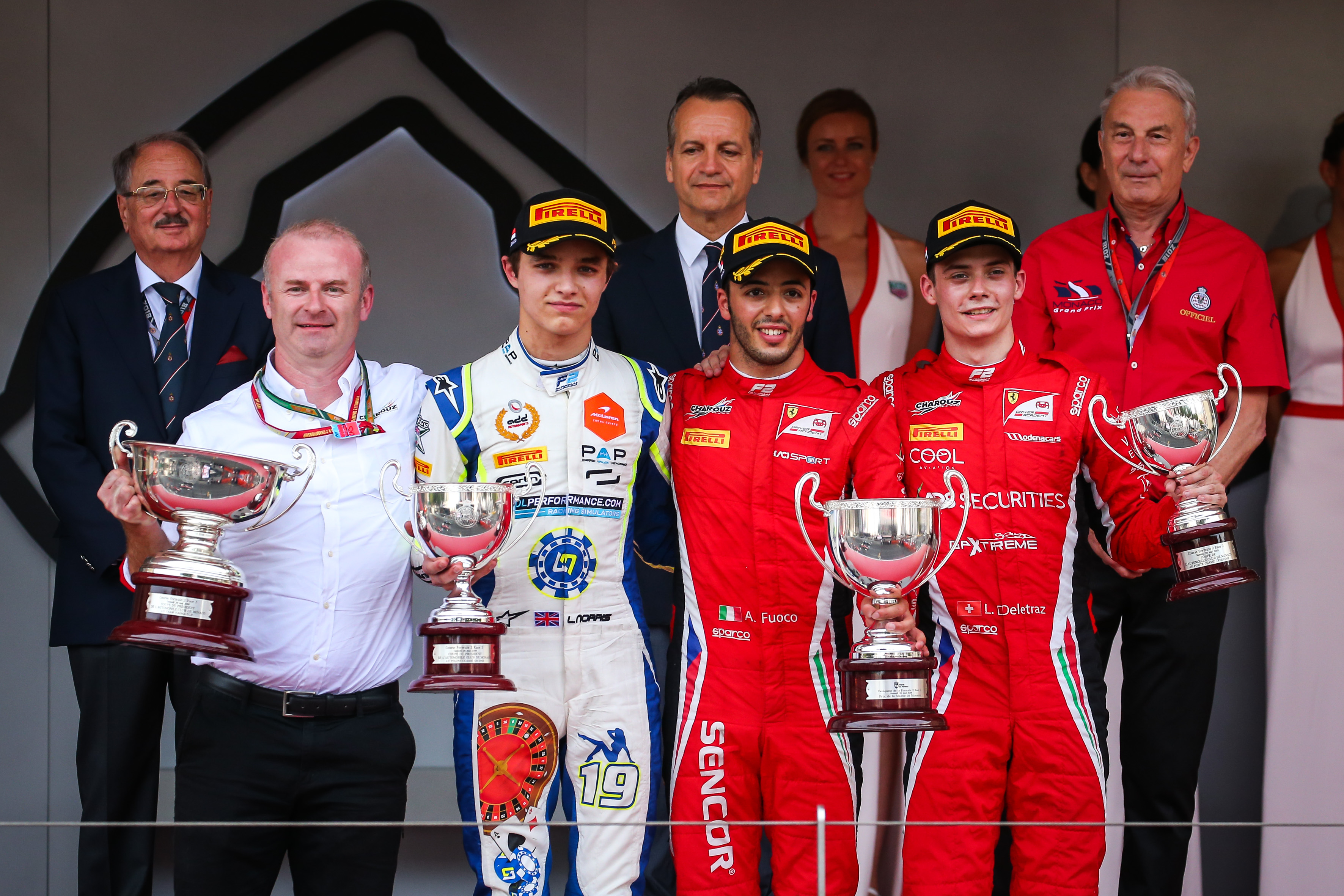 "Antonio and Louis had things under control for the whole race and drove perfectly. This is a moment we'll remember for a long time."
---
Team principal, Bob Vavrik
Antonio Fuoco and team-mate Louis Delétraz gave Charouz Racing System a memorable one-two finish during a thrilling FIA Formula Two Championship Sprint Race in Monaco this afternoon.
Starting from a reverse grid pole, Antonio dominated the 30-lap race on the tight and twisty street circuit as he expertly fended off a strong challenge from championship leader Lando Norris.
The result at the most prestigious race weekend of the season gave Charouz its first F2 victory in only its fourth event, a remarkable achievement for a team that only graduated to Formula One's official feeder category at the beginning of the year.
Finishing on the top step of the podium also took Antonio's championship points haul for the Monaco Grand Prix race weekend to 19 and gave him the second F2 victory of his career.
ADS Securities-supported Louis also drove a magnificent Sprint Race as he built on his impressive P4 finish during Friday's Feature Race in Monaco.
Starting from P5 on the grid, the Swiss driver vaulted up to P3 on the opening lap as he pulled off a brave pass around the outside of two of his rivals at Turn Three.
Feature Race winner Artem Markelov then applied some heavy pressure as Louis began to suffer with electrical and gear selection problems.
But the 21-year-old defended admirably as he decisively closed the door on each of his Russian rival's attacks before taking the chequered flag.
Although Louis finished P3 on the track, he was promoted to P2 late on Saturday night when Norris was handed a time penalty for a virtual safety regulation infringement.
That gave Louis his best-ever F2 race result, his first podium in the F2 category and ensured he left Monaco with 24 championship points.
Team owner, Antonin Charouz, said: "A one-two in Monaco is the kind of result that every team dreams of and today we achieved it. This has been a magnificent day for Charouz Racing System and I'm proud of all our guys. We said we were serious about competing in F2 when we came into the championship and this result shows that."
Team principal, Bob Vavrik, said: "I don't think anything could have gone better today. We always want to win every race but when everything comes together so perfectly, it's really satisfying. Antonio and Louis had things under control for the whole race and drove perfectly. This is a moment we'll remember for a long time."
Ferrari Driver Academy Director, Massimo Rivola, said: "Overall, it was was a good F2 weekend in Monaco. Unfortunately, we didn't put everything together in quali and then Antonio did a mistake at the start and made contact with Ghiotto.
"He simply didn't see he was already there due to a better start and him also being on the super soft tyres. That was a pity and we both apologised to him and the team for that mistake. In the race Antonio pushed very hard and with a good strategy, he managed to get P8 – but that wasn't the target.
"The Sprint Race was very good and we showed excellent pace. Antonio's victory was never in doubt. We had some worries about debris on the track after some crashes but winning in Monaco is something that Antonio will remember for a long time as a driver.
"I was also pleased with how Louis performed. He had good pace in the Feature Race and then he was fast in the Sprint. P1 and P2 in Monaco is a remarkable job and I have to congratulate for the very good job of the team."
Antonio Fuoco said: "I think we showed we had good pace throughout the weekend and I'm very, very happy for the team because we did an amazing job to get a one-two. This is an excellent result! Now the ambition is to try and continue the season in this kind of form."
Louis Delétraz said: "That was the hardest race of my life by far. It was impossible to drive how I wanted with the technical issues I had. Then Markelov put me under incredible pressure as well. But I think these results are well deserved and highlight the perfect job the whole team has done. Getting a one-two in Monaco is pretty amazing."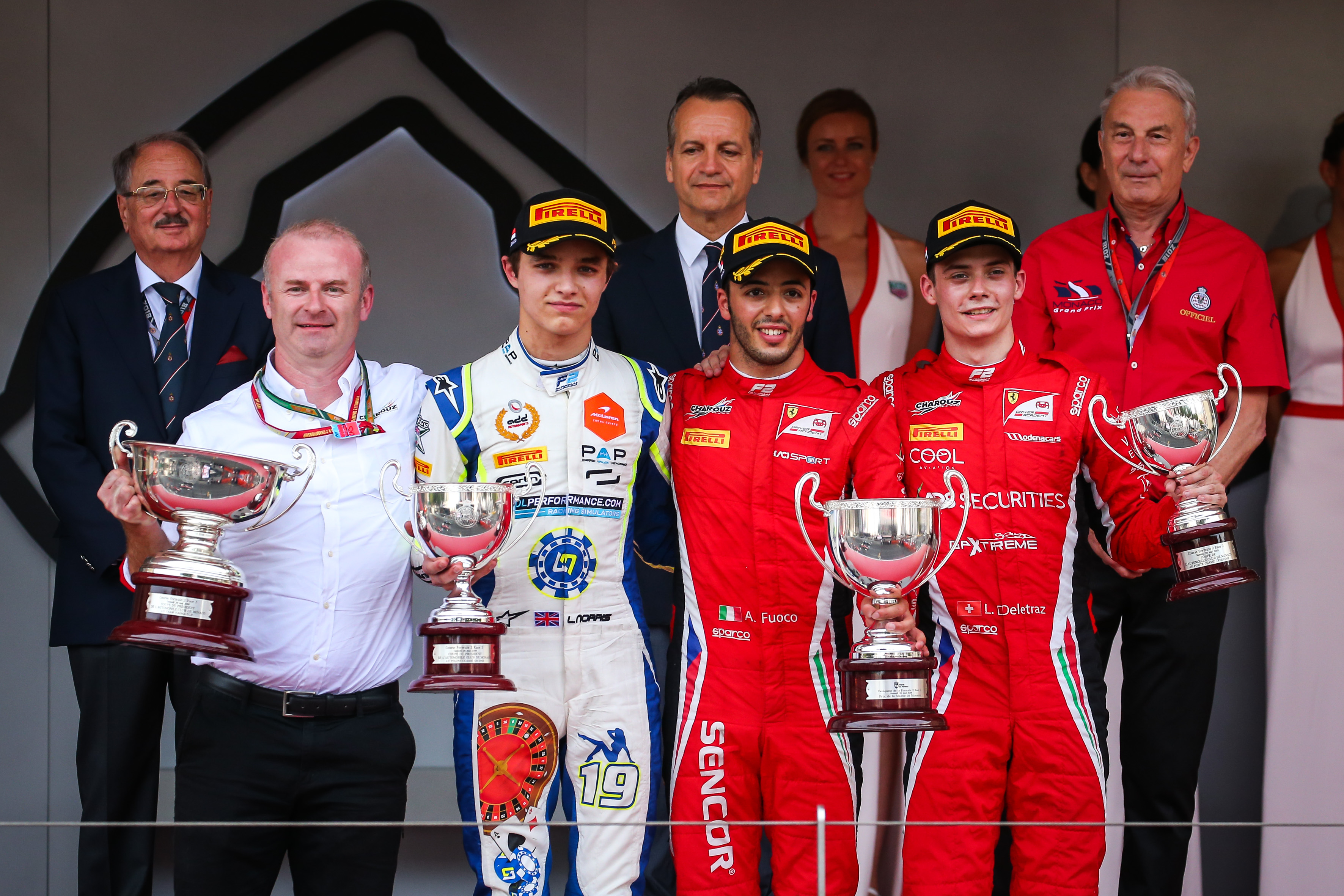 "Antonio and Louis had things under control for the whole race and drove perfectly. This is a moment we'll remember for a long time."
---
Team principal, Bob Vavrik